After splitting road trip to Michigan State and Maryland, Northwestern remains in Top 25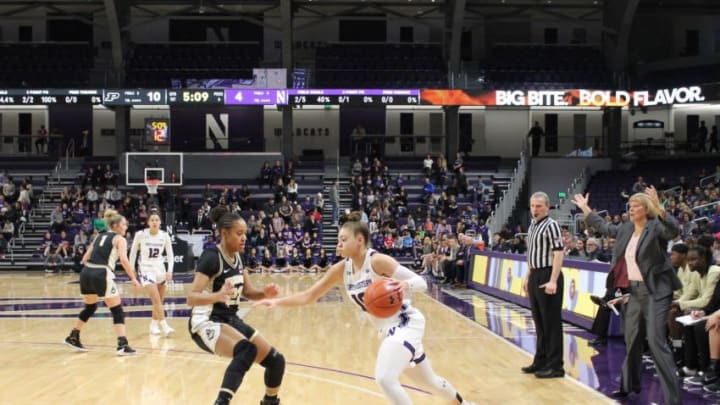 Northwestern's Lindsey Pulliam drives towards the basket against Purdue on Jan. 12 (Photo courtesy of Andy Brown) /
The Wildcats easily put away a tough Michigan State team before falling in a tight battle against No. 17 Maryland.
By virtue of a season's body of work that remains impressive, the Northwestern Wildcats held serve in this week's AP Top 25 poll, sliding down just one spot after last week to No. 23.
The 'Cats should feel secure with their ranking despite their inability to finish off a regular season sweep of the now-No. 17 Maryland Terrapins on Sunday afternoon. That 70-61 loss, frustrating as it was, was cushioned by a 76-48 shellacking of Michigan State in East Lansing on Thursday. They sit at 17-3 overall and 7-2 in conference, tied for second with Maryland behind Iowa, who is 8-1.
In what was NU's second straight win by at least 25 points, the 'Cats took it to the Spartans, who have competed well this year despite their middling record, early and often. They led 17-7 after the first quarter, and easily pulled away with a dominant 26-9 third quarter score. NU shot 47.6% from the field as a team. Per usual, Lindsey Pulliam led the way with 22 points and Abbie Wolf nearly notched a double-double with a 14-9 line, but with sharpshooter Abi Scheid slumping to just five points, it was Veronica Burton who stepped up.
Burton has been the 'Cats' steals maven all year, but at times has struggled to match that pace with her scoring. Thursday was not one of those times. The sophomore guard scored 22 and still registered her now-standard six steals. As of Monday, she is still pacing the Big Ten with 77 on the season, 18 ahead of Maryland's Blair Watson. She figures to reclaim that crown for a second straight year pretty easily.
More from High Post Hoops
While nobody could have expected Northwestern to put on a repeat performance of its stunning 81-58 win over Maryland on Dec. 31, the 'Cats were probably a little disappointed in their offensive consistency in the rematch on Sunday. While they did shoot north of 40%, they scored just 11 and 10 points in the first and third quarters, respectively, and largely played from behind against a talented team on the road.
Pulliam, a Silver Spring, Maryland, native playing miles from her hometown, pitched in her usual 20, and Burton added 14, but the 'Cats, as a unit, struggled quite a bit from the field thanks to a bevy of bad bounces and scoring droughts. They were within five with just two minutes remaining at 60-55, but the Terps kept things under control and made clutch buckets to close out the win.
Of note, Scheid struggled for a second straight game, scoring just six points on five attempts from the field. That brought her total output to 11 for the week, her lowest in a two-game stretch all season. It was abundantly clear that the Spartans and Terrapins keyed in on her defensively, which she should expect to see from here on out after her senior year surge as the conference's best long-range shooter. Moving forward, it behooves the 'Cats to find a way to give her more space to shoot, because their offense lacks dimension when she lacks daylight to play her game.
For the fourth consecutive week, NU plays on Thursday and Sunday. Fortunately for them, the first of those contests will be at home against Michigan. The 'Cats will follow that up with a quick trip to State College for a road rematch against Penn State, who they beat by 26 at home on Jan. 19. These are both games they can and should win, as they continue their pursuit of a regular season Big Ten title.
Love our 24/7 women's basketball coverage? Join our Patreon now and support this work, while getting extra goodies and subscriber-only content for yourself.