Where has the WNBA's offense gone?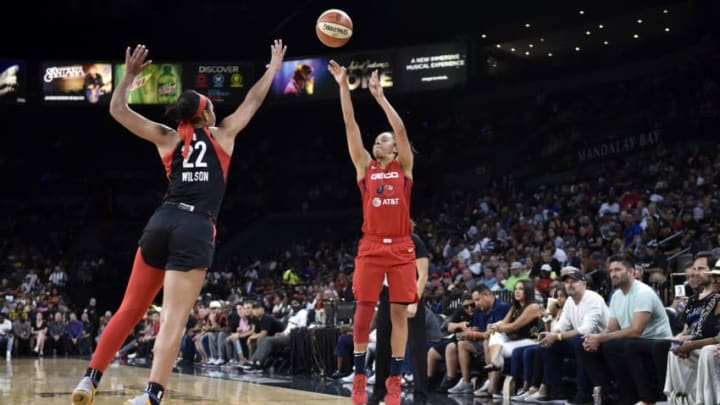 LAS VEGAS, NV - JULY 5: Kristi Toliver #20 of the Washington Mystics shoots the ball against the Las Vegas Aces on July 5, 2019 at the Mandalay Bay Events Center in Las Vegas, Nevada. NOTE TO USER: User expressly acknowledges and agrees that, by downloading and/or using this photograph, user is consenting to the terms and conditions of the Getty Images License Agreement. Mandatory Copyright Notice: Copyright 2019 NBAE (Photo by David Becker/NBAE via Getty Images) /
Examining the offensive drop around the league
In a WNBA season that's featured more parity throughout the standings than in recent years, there lies one statistical anomaly consistently plaguing many of the teams in the league ⁠— a considerable lack of offense.
Thus far, 2019 has halted a three-year streak in which various offensive numbers were up across the league. The most obvious manner to illustrate this claim is by providing the average points per game scored across all 12 teams for the past 4 seasons: 81.9 in 2016, 81.5 in 2017, 82.4 in 2018, and 76.8 in 2019*. The Washington Mystics, along with the Las Vegas Aces, are the lone teams scoring above 80 points per game this season, whereas 11 did so in 2016, and eight each in 2017 and 2018.
More from News
Coaches across the league are finding unique ways to explain their own team's experiences, and struggles, with putting points on the board. After scoring a season-low 58 at home against New York last week, Atlanta Dream coach Nicki Collen pointed to their lack of ability to do what makes the game so simple⁠: make shots.
"These guys know, they're professionals, you're not going to win basketball games shooting 27%, you're just not," she said.
While Collen isn't incorrect, this isn't the Dream's issue alone — the entire WNBA's shooting is down. The league-wide average field goal percentage is 41.9%, which, if it holds for the remainder of the year, would be the lowest since the 2003 season. After the Dallas Wings got punched by the Indiana Fever at home on Friday, coach Brian Agler told the Dallas Morning News that his team isn't "creating a three-point shot the way we wanted to create it." They shot 4-for-25 from behind the arc on the night, and rank last in the league on the season at 29.1%.
While these are examples from teams sitting in the lower half of the standings as July gets underway, they point to the fact that not only are players failing to properly executing their sets in order to produce quality attempts, but when they get these attempts, they're not capitalizing.
Point total statistics transcend to other telling categories as well, such as offensive rating, or points scored per 100 possessions: 11 teams exceeded the 100 mark in 2016, nine in 2017 and 10 more in 2018, according to Basketball Reference. This year, only the Mystics, Fever and (barely, by 0.4) the Minnesota Lynx have eclipsed that benchmark. The last time that three or fewer WNBA teams reached a 100 offensive rating was the 2007 season, when just the Phoenix Mercury and Seattle Storm did so.
To an extent, this doesn't bode well for the league's attempts to draw more audiences to games and fill more seats. Although they're unlikely to closely pay attention to team stats, casual fans crave offense at basketball games; it's what bolsters the excitement of the sport. The WNBA reaches its peak excitement when audiences can witness the full potential of the world's best women's basketball players on display in front of their eyes.
Also regarding eyes, the eye test provides a simple explanation for the WNBA's reduced scoring and efficiency: the absence of many of the league's most offensively talented names. Whether overseas, injured, or simply spending some time away from the game, several of the marquee scorers that the Association has to offer aren't contributing to their teams' on-court performances. Four players who finished in the top-10 in the league in individual scoring last season — Breanna Stewart, Diana Taurasi, Maya Moore and Skylar Diggins-Smith — have yet to make appearances this year, with Stewart and Moore definitively planning to miss the entire season.
Although Taurasi is planning a return in the near future, the WNBA has and will continue to miss not simply the points manufactured by these elite talents, but how their mere presence as active players elevate's the league's reputation. Moore, who was the first female basketball player to sign with Jordan Brand, is a six-time all-star, along with a former MVP and scoring champion. Stewart was last year's league MVP, and played the starring role on a Seattle Storm team that secured their third WNBA title. Rather than putting up 21.8 points and 8.4 rebounds per game on 53% shooting as she did in 2018, she's promoting the league remotely this year in an ambiguous ambassador role.
LOS ANGELES, CA – JUNE 18: Breanna Stewart #30 of the Seattle Storm attends the game between the Washington Mystics and the Los Angeles Sparks on June 18, 2019 at the Staples Center in Los Angeles, California NOTE TO USER: User expressly acknowledges and agrees that, by downloading and or using this photograph, User is consenting to the terms and conditions of the Getty Images License Agreement. Mandatory Copyright Notice: Copyright 2019 NBAE (Photo by Adam Pantozzi/NBAE via Getty Images) /
Seattle, which has been struggling without Stewart, Sue Bird and, at the moment, Jewell Loyd, is a prime example of a team who can blame their slumping offense on these situational factors. They currently rank tenth in the league at 73.7 points per game, whereas last year they ranked second at 87.2.
Other rosters containing absent stardom have also encountered similar consequences to their statistics. The Atlanta Dream rank next to last in the league at 70.5 points per game while last year's second-leading scorer on the roster, Angel McCoughtry, remains sidelined with a knee injury. The Dallas Wings, with Diggins-Smith still rehabbing after her pregnancy, sit at the bottom of the league in this category at 69.3 points per game.
With only twelve teams in the WNBA and only 144 roster spots available, there's an inevitable, increased familiarity with every opponent that all coaches and players acquire over years competing against each other. When asked what might be driving the reduction in offense across the league, New York Liberty Coach Katie Smith explained that besides the absent players — her team is dealing with many of their own, the majority of which currently wrapping up their stints at Eurobasket — this repeated exposure helps dictate preparation.
"We all try to game plan a little bit," she said.
The previously mentioned Aces, sitting at 9-5 after a definitive 90-58 win in New York on Sunday, are an exception to the bruised and partial nature of WNBA rosters across the country. Of their five starters, only one of them has missed one game on the season. Otherwise, they've had their full complement of players at their disposal since game one.
"We're healthy, we're looking after ourselves and putting in the extra work," said Liz Cambage, who was traded to Las Vegas this past offseason.
Their cohesion has worked to their benefit, as they're one of the few teams posting above 80 point-per-game averages on the year (83.2). They also lead the league in several other offensive categories, such as three-point percentage (36) and pace (82.6), defined as an estimate a team's possessions for 40 minutes.
"We put an offense in that I'm familiar with," Coach Bill Laimbeer stressed after Sunday's victory. "It's centered around two bigs. The bigs patrol the paint, our perimeter players shoot shots, and we push the ball… we have bigs that can run."
It isn't entirely fair to analyze the numbers across the league as a whole thus far this season without accounting for the magnitude of missing talent. It is reasonable, nonetheless, to assume that if the league-wide offensive struggle continues, particularly once some of said talent rejoins their respective clubs, the league will lend the trend some attention.
As Pat Summitt, the legendary former Tennessee Lady Volunteers coach, once said: "Offense sells tickets, defense wins games, rebounding wins championships." However, for a league that's already proved it can provide a competitive product, its priority is likely the first result of all three that Summit mentions — increasing revenue and driving attendance up. The WNBA must rediscover its moneymaker.
*as of July 6th, 2019
Love our 24/7 women's basketball coverage? Join our Patreon now and support this work, while getting extra goodies and subscriber-only content for yourself.