Women's Basketball, August 28: WNBA players are the best among us. They shouldn't have to be.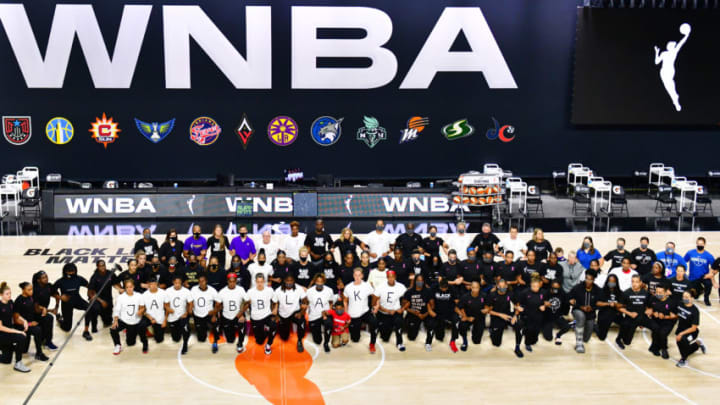 PALMETTO, FLORIDA - AUGUST 26: The Atlanta Dream, Washington Mystics, Minnesota Lynx, and the Los Angeles Sparks kneel on the court after the teams collectively decided to postpone games in protest of the shooting of Jacob Blake at Feld Entertainment Center on August 26, 2020 in Palmetto, Florida. Several sporting leagues across the nation today are postponing their schedules as players protest the shooting of Jacob Blake by Kenosha, Wisconsin police. NOTE TO USER: User expressly acknowledges and agrees that, by downloading and or using this photograph, User is consenting to the terms and conditions of the Getty Images License Agreement. (Photo by Julio Aguilar/Getty Images) /
WNBA players strike from this week's games after Jacob Blake, a Black man in Kenosha, Wisconsin was shot in the back seven times by police while his children were in the car.
WNBA players are the best among us. They shouldn't have to be. They should not have to sacrifice their playing time, their focus, their money, their peace, their time, their energy, or their seasons to keep dealing with social injustice, police brutality, and racial inequality. And yet, here we are.
This moment demands more from everyone, and once again, those with the most to lose are the ones who have spoken up with the loudest voices.
WNBA players are united. They sat out Wednesday and Thursday, and beyond that, this was how they responded.
Mystics players and staff wanted to make a powerful, unified statement and succeeded in doing so on Wednesday. Each player wore a letter on their shirt so that when they were together, they spelled out the name of Jacob Blake, the 29-year-old Black man who was shot seven times in the back by police in Kenosha, Wisconsin. Each staff member had the number seven on the front. And on the back of each shirt, 7 red bullet holes were painted.
The words of Washington Mystics guard Ariel Atkins rang loud and clear in the bubble and across social media — and hopefully, into the ears of those that need to hear them most.
More from Atlanta Dream
"You choosing a human or you choosing a game," Atkins told ESPN's Holly Rowe on national television. "And when I kind of broke it down like that, it's like, Think about that. The fact that we even have to make those two comparisons."
"A lot of people were like, 'Oh, you'll be silenced.' We're Black women, we're used to people trying to tell us to shut up. We don't care. We're here. We're gonna say what we gotta say and we're gonna say how we feel."
The Next's Katie Davidson wrote about the challenge of focusing on basketball at this immediate moment, both from her perspective as well as from the eyes of Minnesota Lynx players and head coach Cheryl Reeve.
When I returned [to Twitter] the other day, it was all over the place, and it just made me so sad because I thought that we were making strides in the right direction," Lexie Brown said. "To see that happen again and this time in front of his family, in front of people he knew, it's just heartbreaking. I feel like now we're going backward. Now I just see the division in our country just getting bigger and bigger, and it's sad, it's scary. I have a Black dad, obviously. I have a Black little brother. I'm here in Bradenton in a bubble, and I have no idea what they're doing or where they are, if they could ever run into a situation like that."
Atlanta Dream players and coaches joined in on the wildcat strike.
"After speaking with representatives from teams playing tonight as well as our WNBPA leadership, the consensus is to not play in tonight's slate of games and to kneel, lock arms and raise fists during the national anthem," Elizabeth Williams said. "We stand in solidarity with our brothers in the NBA and will continue this conversation with our brothers and sisters across all leagues and look to take collective action."
It is unclear what the WNBA is going to do looking forward. But the players have our support.
Thursday's Scores
Donate to Jacob Blake's GoFundMe.
Donate to the Milwaukee Freedom Fund.
Read about the calls to defund and abolish the police. Read Angela Davis.
Subscribe to The Next.