Work ethic, post moves, and versatility: How the three oldest Jones siblings stack up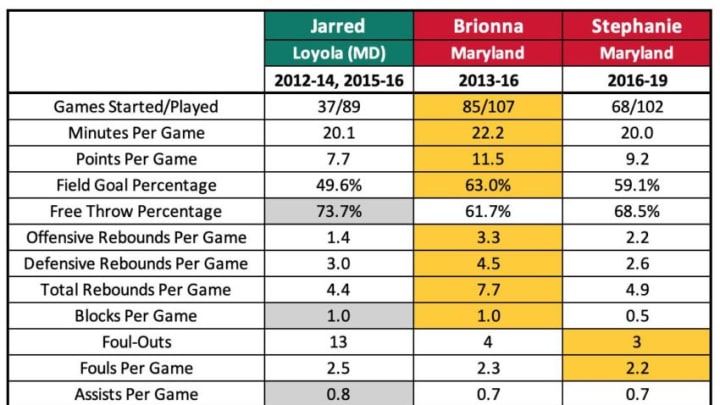 The Joneses. (Screenshot) /
Keeping up with the Joneses
One interesting subplot throughout the 2019 WNBA Finals was the fact that the Washington Mystics and Connecticut Sun had a combined five Maryland graduates on their rosters. The five players graduated between 2009 and 2017, which shows how consistently head coach Brenda Frese's program has produced WNBA talent over the past decade-plus.
One of the youngest Terrapins in the WNBA Finals, Brionna Jones, is in her third professional season with the Connecticut Sun, and her sister Stephanie could be part of the next wave of Terps in the WNBA. Stephanie, a 6-2 senior forward for Maryland, has a versatile game that Brionna calls "her biggest selling point coming into the pros." Brionna, meanwhile, has a powerful low-post game that helped her lead the nation in field goal percentage in her junior and senior seasons at Maryland.
The sisters grew up in Havre de Grace, Maryland, as the middle children of Sanciarhea and Michael. The Baltimore Sun wrote in 2015, "In the Jones family, basketball is king, and there's constant jockeying for the throne" between Brionna, Stephanie, older brother Jarred, and younger brother Jordon. In this respect, the Jones family is not unlike other basketball families such as the Mabreys, Ogwumikes, and Samuelsons.
As I did for each of those families, I'm here today to settle the score: objectively, which Jones sibling reigns? Because Stephanie has only played three seasons at Maryland, we'll look at the stats for Jarred, Brionna, and Stephanie's first three seasons at their respective home state colleges. (Jordon played a postgraduate year after high school at Scotland Campus in Pennsylvania and does not yet have college statistics.) The top performance in each statistical category is highlighted.
All data are from the Loyola men's basketball and Maryland women's basketball websites. /
Note: Jarred missed all but two games of the 2014-15 season with an injury, so these stats are for his first three full seasons on the court: 2012-13, 2013-14, and 2015-16.
The three siblings played nearly identical minutes in their first three seasons, but Brionna was the one who started the most games and scored the most points. She also had the highest field-goal percentage and the most rebounds, which is no surprise given the 6-3 center's role as a strong interior presence. In her sophomore and junior seasons, Brionna averaged near-double-doubles and blocked a combined 89 shots. Frese said in 2015, "She's the cog, the inside piece … We run everything through her." The Terps had great success doing that, reaching two Final Fours in three seasons and winning 87% of their games.
As a WNBA player, Brionna has had to adjust to facing more size and strength than she did in college. She told High Post Hoops in June that the skill she has improved the most as a professional is her shooting. In her WNBA career, Brionna is averaging just 3.2 points per game in limited minutes, but she has gotten more playing time overseas. She averaged 11.8 points and 8 rebounds in 2017-18 with Nadezha Orenburg in Russia and memorably posted 29 points and 11 rebounds for Nadezha last January against USK Praha and her Sun teammate Alyssa Thomas.
Stephanie is following in Brionna's footsteps at Maryland, but their games are very different. Stephanie's versatility is evident in these statistics, as she had the most steals and the fewest turnovers and fouls of the trio. Although she does not score as much as her older sister did in college, Stephanie is also a reliable offensive option, averaging 12.8 points last season and 9.2 in her career while shooting 60%, 59%, and 59% in her three seasons. Her teammate Kaila Charles told The Washington Post's Ava Wallace, "Steph does a lot for us, and I don't think she gets the credit she deserves … She holds us down when things are going a little crazy … She's the unsung hero of our team." Wallace also wrote that Stephanie's competitiveness was what endeared her to Frese: Stephanie picked her jersey number (No. 24) because it matched the number of points she scored as a 6-year-old against an older neighbor, and as a child, she once sat in the backseat of the family car snapping pencils as a way to express her frustration over a tough loss.
If Brionna is the powerful center and Stephanie the versatile, competitive forward, older brother Jarred is the classic glue player. Growing up, Michael Jones told The Baltimore Sun, his oldest child was "a daredevil" who "got into everything." On the basketball court, that manifests as all-out effort. "He's the one who taught me about having a good work ethic," Brionna said in 2015. "… He gives maximum effort every game, and I think that's what I've learned the most from him." His coach at Loyola (MD), G.G. Smith, called Jarred "Mr. Intangible" for his play on both ends of the court and said he often had to tell Jarred to stop diving for loose balls in practice. Jarred averaged the fewest points among his siblings but led in free-throw percentage and assists per game and tied for the lead in blocks and steals per game. Since graduating from Loyola in 2017, Jarred has played in Finland, winning Finland 1A Player of the Year and Finals MVP last season.
This season, Stephanie will look to take the Terps to a Final Four, just like Brionna did. After that, Stephanie will likely head to a WNBA training camp. "I would love to play with her" in the WNBA, Brionna told High Post Hoops. "It's gonna be really difficult for my parents if we play against each other … [But] I'll be happy for her no matter what happens."
Whether or not the Jones sisters get to team up again in the WNBA, both are two of the top Terps in program history under Frese, part of a remarkable run of 10 conference titles and 15 NCAA Tournament bids in 17 years. Looking at the three Jones' college careers, Brionna appears to come out on top—but together they could make a family 3×3 team that could compete with the sport's best.
Unless otherwise noted, all statistics are courtesy of Loyola men's basketball and Maryland women's basketball.
Love our 24/7 women's basketball coverage? Join our Patreon now and support this work, while getting extra goodies and subscriber-only content for yourself.