WNBA milestones: What we've seen and what's to come in 2019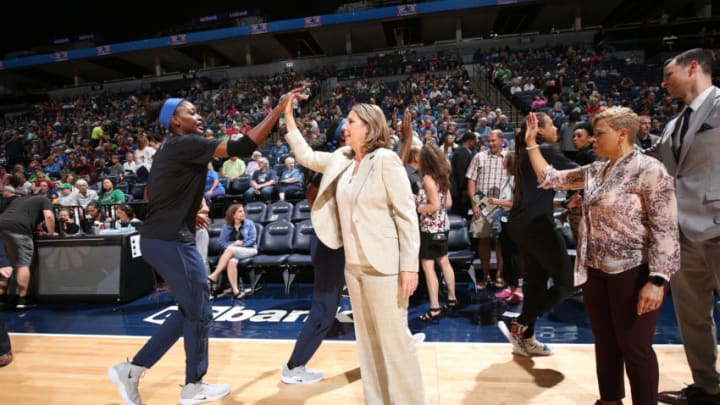 MINNEAPOLIS, MN- JULY 17: Cheryl Reeve of the Minnesota Lynx high-fives teammates before the game against the Seattle Storm on July 17, 2019 at the Target Center in Minneapolis, Minnesota NOTE TO USER: User expressly acknowledges and agrees that, by downloading and or using this photograph, User is consenting to the terms and conditions of the Getty Images License Agreement. Mandatory Copyright Notice: Copyright 2019 NBAE (Photo by David Sherman/NBAE via Getty Images) /
Some big, round numbers are within reach
With 120 games down and 84 to go, the WNBA season is well over halfway through. The WNBA All Star Break is over and regular season action is back underway with the opportunity for major milestones and records every game.
A little over a month remains, so let's take a look back at the top on-the-court history we've seen so far in 2019 and what's still on the horizon as the season races toward the Playoffs
What We've Seen
Leading the Liberty: Though the Liberty fell to the Sparks on June 5, Tina Charles made history by passing up Vickie Johnson as the leading scorer in franchise history. Charles has 3,506 points with the Liberty and 5,749 overall, good for 12th overall in league history.
700 swipes: With 5 steals in a win over Las Vegas on June 27, Alana Beard crossed the 700-steal threshold, joining Tamika Catchings (1,074) and Ticha Penicheiro (764) as the only WNBA players with over 700 regular season steals.
First to 450: With a win over the Washington Mystics on July 7, the Los Angeles Sparks became the first WNBA franchise with 450 regular season wins. Now at 454-295 (60.6%) overall, the Sparks are second only to the legendary Houston Comets (61.8%) in regular season winning percentage.
600 swats: Also on July 7, Brittney Griner recorded 3 blocks in a Phoenix Mercury win over the Atlanta Dream, making her the third WNBA player with 600 career blocks, behind only Margo Dydek (877) and Lisa Leslie (820).
Double-Double Queen: On June 8, Sylvia Fowles became the 21st WNBA player to score 5,000 points and just the fifth player in that group with 3,000 rebounds (up to 4th in rebounding). Now up to 4th all-time in rebounding, she has combined those stats like no other player, passing up Lisa Leslie with her league-record 158th double-double on July 14.
Gray's triple-double: 13 points, 13 assists, and a 10th rebound made Chelsea Gray just the 8th player to record a triple-double in the WNBA, making it three consecutive seasons with one in the W.
Ever-steady Dupree: It's been a year of milestones for Candice Dupree. She became just the third player with 2,500 made field goals and then just the first with 2,500 from inside the arc alone. That all came on the way to 1,000 points with Fever, making her the 2nd player with 1,000 points with three different teams each (Chicago, Phoenix, and Indiana). On another level of her own, she grabbed her 500th Fever rebound, giving her 500+ rebounds with three different teams; no other WNBA player has done that. If that wasn't enough, with 6,299 points and counting, she moved past Sue Bird and Lisa Leslie in to 6th-place all-time in WNBA scoring.
250 for Laimbeer: On June 29, the Las Vegas Aces beat the Indiana Fever in overtime for Bill Laimbeer's 250th regular season win in the WNBA. He is just the fourth coach to reach that mark, joining Mike Thibault, Dan Hughes, and Brian Agler.
500 for Agler: On June 30, Brian Agler coached his 500th WNBA game, joining Dan Hughes and Mike Thibault in the 500+ club. He got the win against the Minnesota Lynx, the franchise where he got his start coaching in the league. Earlier in the season, he got his first win with the Dallas Wings, joining Anne Donovan and Hughes to win with at least four different franchises (Minnesota, Seattle, Los Angeles, and Dallas).
Sloot moving up: After setting a new single-season record with 258 assists last season, Courtney Vandersloot has continued to average 8.5 assists per game this year, moving up the all-time leader board, passing Shannon Johnson (1,424) and Tamika Catchings (1,488) so far, good for 7th place.
200 wins for Sky: On July 12, the Chicago Sky got a 99-83 home win over the New York Liberty, logging their 200th regular season win since joining the league in 2006.
Montgomery from 3: On July 31, Renee Montgomery sank her 500th regular season three, becoming the 13th player to reach that mark. Earlier in the season she made her 100th three with the Atlanta Dream, becoming just the second player (after Tina Thompson) to make 100 or more with three different teams (Minnesota, Connecticut, Atlanta).
What to Watch For
First franchises: August 1 is a big day for the three original WNBA franchises still active in the league. The Los Angeles Sparks, New York Liberty, and Phoenix Mercury each play their 750th regular season game that night.
Top 5 for Reeve: With 223 regular season wins so far, Cheryl Reeve is 7 behind Michael Cooper (230) for 5th all-time in league history. The Lynx went 10-10 in the first half of the season, so winning just half of her remaining games in 2019 would get Reeve to the top 5. Many more leader board movements are expected over the next month.
Player longevity: Tanisha Wright is 8 games from becoming the 12th player to appear in 450 regular season games. Behind her, several other active players are on the verge of major game milestones: Jasmine Thomas (300) as well as Rachel Banham and Kayla Thornton (100).
Scoring leaders: If Tina Charles keeps her current pace of 17.2 points per game, she can move up to 10th in scoring and reach the 6,000-point mark by the end of the season. Also watch out for Nneka Ogwumike, who is 136 points from 4,000, and Shavonte Zellous, who is on the verge of 3,000 career points.
2,000 rebounds: DeWanna Bonner is averaging a career-high 7.4 rebounds per game and is on pace to become the 23rd player to cross the 2,000-rebound mark later this season. Stefanie Dolson and Jonquel Jones are also set to record their 1,000th rebounds before the season wraps up.
Another 600th block: To add to her list of 2019 accomplishments, Sylvia Fowles is fourth all-time with 599 career blocks, just one from her 600th, joining Brittney Griner, who reached that mark earlier this season.
Beyond the arc: Kristi Toliver is three threes from becoming the 8th WNBA player with 600+ made threes. Just down the line, Leilani Mitchell and Shekinna Stricklen are both likely to get their 400th each in the second half of the season.
Aces vs. Mystics: The Las Vegas Aces and Washington Mystics will continue their historic series by finishing their suspended game August 5, and both are among the front-runners to win it all this year for a reason. The Aces are on pace to set a new team single-season record with 39.3 rebounds per game, and the Mystics could set a new standard in threes attempted per game (25.3 per game so far). Their 8.6 made threes per game is not far behind the current team record, held by the Seattle Storm who made 9.0 per game last season.
Love our 24/7 women's basketball coverage? Join our Patreon now and support this work, while getting extra goodies and subscriber-only content for yourself.