12 Things: more Jonquel, Sky defense, McCowan v. Griner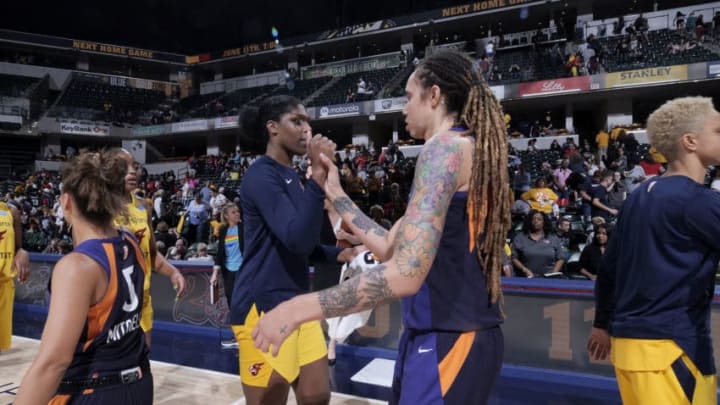 INDIANAPOLIS, IN - JUNE 9: Teaira McCowan #15 of Indiana Fever hi-fives Brittney Griner #42 of Phoenix Mercury after the game on June 9, 2019 at the Bankers Life Fieldhouse in Indianapolis, Indiana. NOTE TO USER: User expressly acknowledges and agrees that, by downloading and or using this photograph, User is consenting to the terms and conditions of the Getty Images License Agreement. Mandatory Copyright Notice: Copyright 2019 NBAE (Photo by Ron Hoskins/NBAE via Getty Images) /
Notes and analysis on the past week in the WNBA
12 things on another fun week in the WNBA, including Teaira McCowan's first minutes against Brittney Griner, the Sky getting some things right on defense and Jonquel Jones continuing to shine:
Coffey helps bog down the Sun
Plugging Nia Coffey into the starting lineup doesn't exactly do wonders for a team that already needed somebody to step up to make more shots in the worst way. She still adds a lot of value if she's locked in and doing everything else well. Putting her on Jasmine Thomas Sunday against Connecticut unlocked some fun switching possibilities.
Stalling out more possessions of the opponent and forcing them to make tough shots over somebody feeds right into another big strength of Coffey's game: Getting out in transition.
This version of this team is still much better with Brittney Sykes playing big minutes and looking to score, but Coffey's physical presence on the wing can help a front line that will be relatively small stacked up against some of the league's top frontcourts.
Can't get enough JJ 
How many centers in the history of the league scare teams enough to encourage these kinds of miscommunications popping out to the 3-point line coming off of a screen?
The Sun went right back to that action on the next trip:
That's a wonderful read and pass by Courtney Williams to find Alyssa Thomas, who made sure to make herself available as Elizabeth Williams switched onto her.
Sky getting most of it right, Washington pouncing when you slip up
The first half of Chicago's game in Washington was the most interesting to date. The Sky showed that they can go punch for punch with an elite offensive team when they simply take care of the ball and get up decent looks on most of their possessions. What a concept!
Several possessions from the first quarter showed how close the Sky are to figuring things out and just how tough Washington is to guard when firing on all cylinders.
Watch Courtney Vandersloot switch onto Elena Delle Donne—far from ideal—and what transpires from that point.
Cheyenne Parker comes over to scram Vandersloot out of that matchup as Delle Donne has the ball. That alone is incredibly tough to do without immediately getting burned on the next pass.
Allie Quigley makes the right decision to stunt toward Natasha Cloud before veering over to Ariel Atkins, likely seen as the more consistent threat, though Cloud seems to be inching closer by the day. It's up to Vandersloot to get out to Cloud and at least get a decent contest.
Cloud misses the shot, but Quigley fails to box Atkins out. The possession started in near-crisis with Vandersloot switched onto the game's best isolation scorer.
The Sky closed off immediate creases in that initial pick and roll and knew how to get Vandersloot out of there. That should be seen as a positive. But to draw a line back to last season, they need to finish more possessions with defensive rebounds.
Z off one leg
Can you tell who Azura Stevens' favorite player is?
Stevens oozes potential, seen a few nice scoring stretches during her rookie season. It's tough to know at this stage what her biggest strengths will be as a scorer, what areas of the floor she'll be most effective from, or just how big of a role she'll be able to carry.
And for now, that unpredictability is what makes her so exciting.
Simply being on the floor opens up the lane for Dallas' limited guard corps. The Wings have really leaned on their frontcourt to create facing the basket. Now is the time for Stevens to, well, spread her wings some more.
Let T play 
C'mon, Erica Wheeler. We all want to see it. Just let Teaira McCowan go one-on-one with Brittney Griner.
On a more serious note: This may have been McCowan's craftiest post-up possession to date, college or pros.
Bonus points, even though she missed it, are tacked on for doing it against Griner. McCowan will need time to develop on both ends. Her offense is further behind the defense, so mark this down as an encouraging sign that could begin to snowball into larger signs of early progress.
Liz and A'ja settling, Tina muscling up
The Aces will be very beatable whenever A'ja Wilson and Liz Cambage are anything less than dominant.
Both players settled for some jump shots and combined to miss all but one of them. (Tina Charles is a mountain in the post when she wants to be and completely stood Wilson up all afternoon in the post. That had a lot to do with it.)
Cambage, even in playing just 24 minutes, has to do more to tilt a matchup with Amanda Zahui B in their favor. Cambage is too strong and skilled to not bury her under the rim and draw more double teams.
Both Vegas bigs also missed some chippies and the Liberty made the most of every opportunity to have their bigs beat Wilson and Camabge down the floor in transition. Future opponents will look to do the same.
This is also still a top-heavy 3-point shooting team even with the addition of Sugar Rodgers. Kelsey Plum, Kayla McBride and Rodgers got up 10 triples in the game. As Cambage ramps up her minutes and the Aces hammer away more with their inside-out game, that number should go up with relative ease.
Nneka pump and go 
Nneka Ogwumike doesn't just need to cash in on more spot-up jumpers to make it work for a team with so much frontcourt talent that needs to be on the floor. She needs to spend more time out there to set up more of her own drives to the rim.
Ogwumike plays with a ton of force as a driver and can be really tough to account for shot out of a canon from the corners as teams load up for Chelsea Gray and Candace Parker. It's only a matter of time before we see more of the infamous step-throughs on drives that start 25 feet from the rim. She'll lose the defenders that do manage to stick with her in a straight line.
Minny splits
The Lynx got into some really fun action from the elbows Sunday against the Sparks.
Lexie Brown's involvement makes that split action really tough to handle. It unfolds so quickly. Napheesa Collier has been a problem out of the gates cutting backdoor and ducking in for post ups. But if you slip up and leave Brown open just for a beat, she's got the quick release and deep range to burn you from deep.
Another read out of the same action: Put Brown on the other side of the floor and have the other big set a flare screen.
They rack up more points than they should thanks to their timing and spacing. When you scan the roster and consider the 3-point shooting resumes of most of their players, this isn't a team likely to light you up from deep. Coaching is tough to quantify and evaluate from the outside. Buckets like these, to me, are where you really have to tip your cap to the coaching staff for putting these players in positions to succeed and come at a defense with multiple actions in rapid succession.
Zahui Three
The Liberty are incredibly reliant on their guards making really tough shots sprinting off screens. Zahui B getting involved in those actions to quickly step into one herself makes life much tougher on the defense.
This team feels like they're closer to figuring things out than their first handful of games suggests. Kia Nurse, Bria Hartley and Rebecca Allen all have a year of experience under their belt with Katie Smith. They're continuing to push the pace, where Asia Durr has really opened things up with her polish as an on-the-move threat to launch from anywhere off the catch.
A Phoenix wrinkle 
Briann January got involved Sunday as part of a fun wrinkle to the snug action we often see with Brittney Griner and one of Diana Taurasi or DeWanna Bonner.
January gives Griner a head start into that screen for Bonner. January's defender freezes in the lane, possibly anticipating a Griner slip to the rim. Bonner tugs at that player to help again and January capitalizes, popping out for an easy triple.
Howard plays CF
The Storm got two cracks at it early in the season, but they've shown it's possible to load to a Sylvia Fowles or Napheesa Collier post up and recover in time to take away an easy spot up.
Natasha Howard might be one of the best playing center field on the backside, and Jordin Canada is able to get out in a hurry to Damiris Dantas, who isn't going to be able to beat her off the bounce.
Those sneaky Mystics 
On top of their wonderful spacing, Washington's entire roster has a knack for some really heady cuts during the main action to throw a defense even further out of sorts. Watch Kristi Toliver on this play.
Both Asia Durr and Brittany Boyd think they've exchanged assignments on the back side. One problem: Toliver didn't stay on that side of the floor.
Another: Nobody was ready to run out to Natasha Cloud.
The Mystics had another advantage brewing with Toliver and Elena Delle Donne on the other side of the floor with only one defender over there to account for them. Didn't need it. Good luck getting stops against this team.
Love our 24/7 women's basketball coverage? Join our Patreon now and support this work, while getting extra goodies and subscriber-only content for yourself.