Jessica Shepard and Notre Dame are great together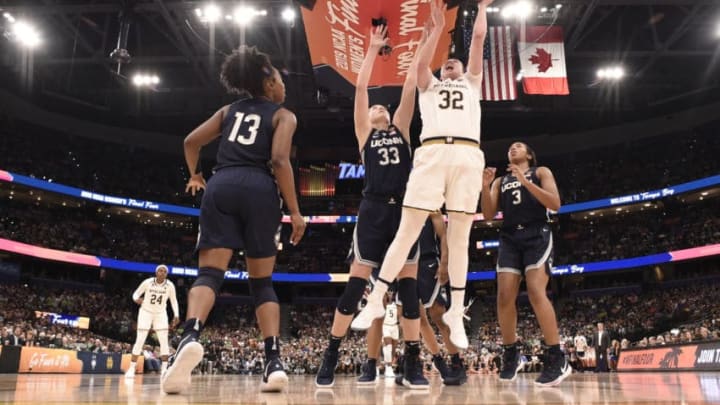 TAMPA, FL - APRIL 05: Jessica Shepard #32 of the Notre Dame Fighting Irish shoots between Katie Lou Samuelson #33 and Megan Walker #3 of the Connecticut Huskies at Amalie Arena on April 5, 2019 in Tampa, Florida. (Photo by Ben Solomon/NCAA Photos via Getty Images) /
The indispensable Notre Dame player.
I remember speaking to Jessica Shepard during her freshman year at Nebraska. She didn't shy away from the question that hovered over her game, the thing even admiring WNBA talent evaluators brought up.
"My moves were getting me open shots," Shepard said back in November of 2015, after an 88-46 loss to Connecticut. "It was just my legs, which comes back to conditioning."
A lot has changed in the three-plus years since then — Shepard is no longer at Nebraska, but instead on the cusp of a second straight national championship for Notre Dame. And it is Connecticut that doesn't have answers for Shepard, nor does anyone else in the country, for a 6'4 player with elite toughness, strong rebounding technique and yet, the court vision of a perimeter player.
More from NCAA
"Yes, Jess is indispensable to what we do," her head coach, Muffet McGraw, said of Shepard after the duo beat Connecticut once again in the Final Four, this time by an 81-76 score. "She fits perfectly into our system. She is someone that loves to pass the ball. She probably wants to be a point guard. She went coast-to-coast on a steal. She is a great facilitator on who the post is. Over a hundred assists throughout the year. She makes our offense go."
Shepard scored 20 points, grabbed 13 rebounds and added seven assists — and nothing about it was out of the ordinary. She's had ten games with at least five assists already this season, 20 double-digit rebounding games, while scoring in bunches from everywhere, a midrange shot that allows Brianna Turner to operate as she sees fit, a classic five.
"Bri can go down and be on the block, not worry about anything else because Jess is a great high-post player," McGraw said.
I still remember Shepard discussing her time at Nebraska, way back when — she spent a lot of time on the low block, it wasn't her favorite, but it is "what Nebraska needs". It took guts to do what Shepard did next: a child of Nebraska turned into the great hope of the university, she instead sought out Muffet McGraw and Notre Dame, with a simple goal: to go win championships. I think of Shepard when I hear people critical of the number of players who transfer, the player castigated as too weak to stick it out somewhere. What Shepard did was the opposite: she found a program to challenge her in precisely the right way she needed, and the results have been spectacular for player and team alike.
McGraw is right, of course: she is the perfect fit. In an offensive scheme that rewards secondary facilitators, someone who can find the low block, or the three-point shooter, or most exquisitely, the streaking guards up the floor from a spot just under the opponent's basket after muscling the out of the way to secure the rebound, all of it has turned a group missing a traditional point guard into one of the most unguardable offenses in recent memory.
"We knew coming in there's things Notre Dame does that we don't have an answer for," Connecticut coach Geno Auriemma said following the game. "I've had those kind of teams a couple times."
That's the team Shepard faced back in her freshman year, and that's the kind of team she's helped Muffet McGraw build here in 2018-19, the Irish on the doorstep of doing something no one but Connecticut has done in a long time, which is to win back-to-back titles.
It probably doesn't happen, though, without Shepard not just playing well on Friday night, but adding a burst as she ran through the tape of a grueling game. There are plenty of great players on Notre Dame — Arike Ogumbowale and her 14 fourth-quarter points, Turner and the shot-blocking record for the program, 371 career blocks, one more than Ruth Riley, Jackie Young's athleticism, Marina Mabrey's Jersey toughness and perimeter shooting, all vital, to be sure.
"I think strength coaches, I think the coaching staff just does a great job of getting us in shape," Shepards said, though she's previously noted that a conversation with Cheryl Reeve at USA Basketball training camp last fall helped play a part as well. "When it does come March and April we're ready to go out there and play. I think everyone played pretty high minutes today."
But coaches tell you who they need the most by who plays all 40 minutes in a game when it matters most. One Notre Dame player did, and it was Shepard.
And that's the gift Notre Dame has given Shepard in return, a player who showed flashes of being elite as a freshman, but averaged just 28.5 minutes per game. She didn't come off the floor, and late in the game, it was Shepard finishing a pass from Turner under the rim, and it was Shepard drilling a long two to give Notre Dame the lead, 74-73.
And on the happy walk to the bus, when it was over, Jessica Shepard didn't have to talk about what needed to change in her game, or think about where she should be. For now, she's right where she fits. Soon enough, she can consider what's next after Sunday night's national championship game, the start  of a whirlwind week in which the phenom from Nebraska has a chance to play for a national championship and then hear her name called at the WNBA Draft in the span of 72 hours.
"I think she'll be a great player at the next level," McGraw said of Shepard. "She can shoot threes. In our system she doesn't get a chance to do that a lot. This year she shot a lot more jumpers from the three-point line. Her free-throw percentage has really improved. I think she's proven she can face up and score in the WNBA."
In that way, and really only that way, is there a question around Jessica Shepard that resembles how people viewed her as her college career began. There's still a ceiling undefined, a chance for greatness. The only difference is, no one doubts anymore that Jessica Shepard is going to reach it, and in many ways, already has.
Love our 24/7 women's basketball coverage? Join our Patreon now and support this work, while getting extra goodies and subscriber-only content for yourself.